Last Saturday, we contributed to another step towards gender inclusivity in the world of technology, organizing a JavaScript bootcamp in partnership with SheTech, a non-profit organization dedicated to bridging the gender gap in STEM. The primary goal of this event was to provide young girls and women with a tangible opportunity to delve into the realm of programming, addressing the prevailing skill mismatch within the STEM sector.
Through word of mouth and thanks to Bitrock's and SheTech's active communities, the event drew the enthusiasm of almost 50 participants, both girls and boys, all eager to enhance their programming skills. 
The bootcamp kicked off with an insightful briefing on the Front-End scenario, followed by a presentation outlining Bitrock's value proposition.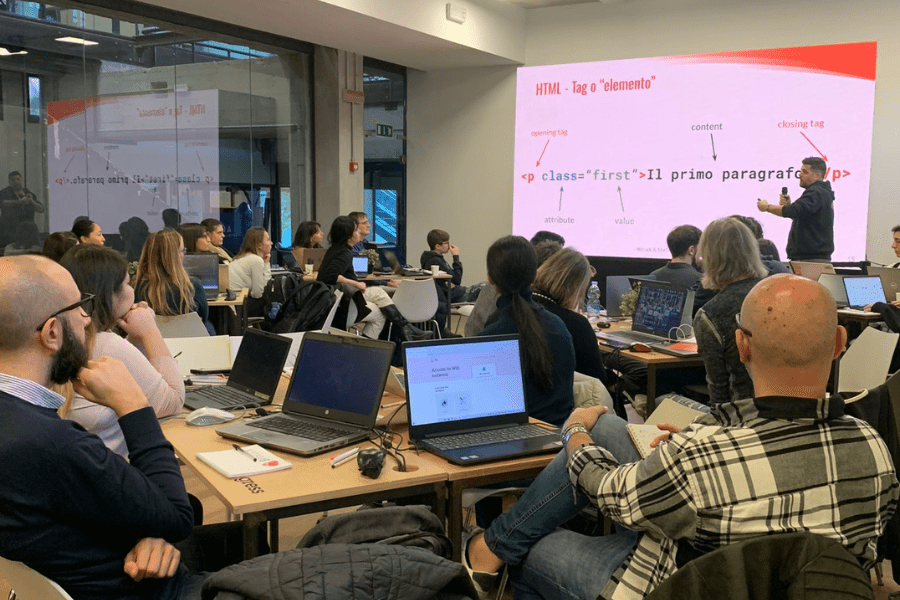 Participants explored the world of JavaScript guided and supported by experienced Mentors. They challenged themselves in practical exercises divided into different levels, suitable for both beginner and more experienced programmers. 
After five hours of intense programming, the bootcamp ended with a dynamic Q&A and feedback session during which participants openly discussed various aspects of the event, sharing insights and experiences,  giving us useful hints fundamental to the continuous improvement of our events.
This bootcamp represents the commitment of Bitrock and SheTech in fostering a diverse and inclusive tech community. By providing practical opportunities for skill development and creating an engaging learning environment, the event served as a small yet impactful step towards addressing the gender gap in STEM.
As we celebrate the success of the JavaScript bootcamp, we recognize the importance of continued efforts in supporting women in technology, entrepreneurship, and the digital space. The journey towards gender equality in STEM is ongoing, and with opportunities like these, we give our contribution for a more balanced and innovative future.
Stay tuned for more exciting events, bootcamps and workshops in partnership with SheTech… coming soon!